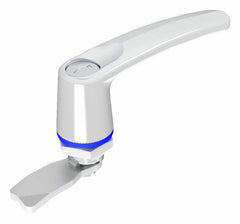 100-9416 Locking L-Handle Stainless Steel
100-9416 Locking L-Handle Stainless Steel, for cutout 20.1, length 18, stainless steel
Suitable for the food sector and hygienic areas.
Meets Hygiene requirements acc. to DIN EN ISO 14159 and DIN EN 1672-2.
Polished surface.
RH or LH application.
Seal FDA conform.
IP 65/67 DIN EN 60529.
Grounding by grounding nut.
Cam can be delivered pre-assembled upon request.
The pre-assembled Quarter-turn can be installed in the cutout.
Housing and Handle: stainless steel AISI 316 L
Grounding nut and serrated screws: stainless steel
Seal: Silicon, blue, FDA conform (Food and Drug Administration)