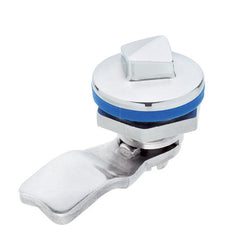 100-9503 HD Quarter Turn Lock for food industry (Hygiene)
Typical lead time 10-14 days.
100-9503  HD Quarter Turn Lock for food industry
Specially developed 'hygienic' lock conforming to:
GS-NV 2:2013/06 (food processing machinery)
GS-NV 6:2013/06 (hygiene requirements)
Machine Ordinance DIN EN 1672-2:2009
Stainless steel AISI 316L
RH and LH application
Water and dust-tight to IP69K
Seal: silicon (blue); FDA approved.
Dirt resistant/easy to clean by means of polished surface and transition radii.
For key, see 204-0140.39
Separate cam required; dimension H to be specified.
Cam must be ordered separately.
*Supplied in packs of 6* 
Quantity of 1 = 6 locks
For full datasheet please see below.
For large quantities please contact us. 
Related Products