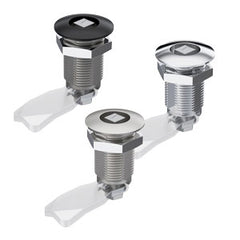 1-110.01 Quarter-Turn Pr20.1 L36
1-110.01 Quarter-Turn Pr20.1 L36
Flat quarter-turn for cutout Pr20.1.
RH/LH application.
IP65/67 according to DIN EN 60529 by sealing kit (optional).
Need to configure the quarter-turn with insert (adapter) and cam.
The quarter-turn can be screwed into the cutout with the pre-assembled cam.
Installation type: screw-on.
Materials: Housing - zinc die, matte chrome plated, glossy chrome plated or black. Nut - steel, zinc plated. Grounding nut - zinc die, untreated.
For full datasheet see below.
Please contact us for large quantities.