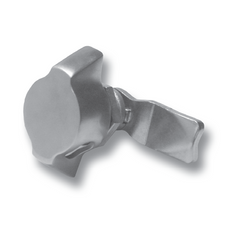 200-9375 Quarter-Turn Wing Handle for Padlock
200-9375 Quarter-Turn Wing Handle for Padlock
Stainless steel, AISI 316, surface polished.

RH and LH application.

Water- and dust-tight to IP65 

Padlock feature only if cam is at 90° to the wing handle.

Separate cam required; dimension H to be specified.
Cam must be ordered separately.
For full datasheet see below.
Please contact us for large quantities.