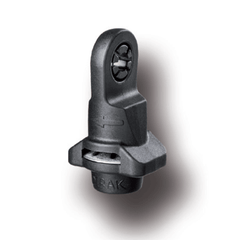 200-9621 Adapter for Round Rods - Polyamide (PA black)
200-9603 Polyamide (PA black) adapter for Round Rods
Clip-in installation for rattle-free fastening
Quick, tool-less installation

Clamping fingers spring into the stud groove

Non-detachable

This adaptor should be used only with quarter-turns or swinghandles that turn a maximum of 90 degrees

Rods cut to length, please note the 14mm difference.
For full datasheet see below.
Please contact us for large quantities.