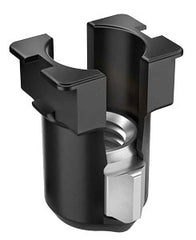 203-1901.06-00095 Cage for Nuts
203-1901.06-00095 Cage for Nuts
Supplied in a pack of 2,000 pieces.
For the secure joining of metal sheets.
Use the Cage with the Grounding Nut M6 (product code 203-1904.15-00006).
Clamping range 1-4mm.
For cutouts 9.5 and 9.2mm.
Can be installed in the cutout without tools from the front as well as from behind.
Material - PA.
Surface - black.
For full datasheet see below.
Please contact us for large quantities.