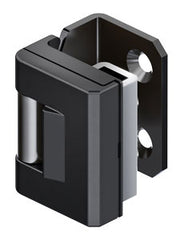 212-9092.00 Hinge for Single Cabinet Pr05 180°
212-9092.00 Hinge for Single Cabinet Pr05 180°
RH/LH application.
For surface-mounted doors.
Hinge partly visible.
180° opening angle.
Lift-off of the door by swiping the door-part to the middle of the door.
Materials: Door-part: zinc die, black. Frame-part: steel, black. Bridge, screws, pin: steel, zinc plated.
Fastening screws for the door-part are included.
For full datasheet see below.
Please contact us for large quantities.