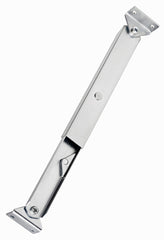 230-9001.00 Telescopic Cover Support (335mm length)
230-9001.00 Telescopic Cover Support (335mm extended length)
Telescopic cover support for covers and desk-leafs.
Automatic locking and unlocking functionality.
Guides separately riveted.
Locking lever made of stainless steel.
RH/LH application.
Length (L1 extended): 335mm plus/minus 2mm.
Length (L2 extended, snapped): 365mm plus/minus 2mm.
Length (L3 retracted): 215mm plus/minus 2mm.
For full datasheet see below.
Please contact us for large quantities.