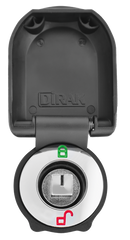 237-9307.00 Spring-loaded flap lid for quarter-turn locks
237-9307.00 Spring-loaded flap lid for quarter-turn locks
Enclosing flap provides protection against the build-up of dirt, dust and rain.
Retrofittable for quarter-turns with insert and cylinder quarter-turns.
For head diameter max. 32mm and head height 6mm.
Integrated stop protects the quarter-turn surface from damage.
PA, black. Kurled pin and leg spring: stainless steel.

180° opening angle.
For full datasheet see below. Please contact us for large quantities.