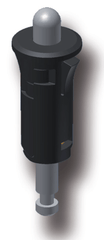 245-9303 120°Concealed Hinge
245-9303 120°Concealed Hinge


Concealed hinge for nested door.

Can be applied to both top and bottom of the door.

Simple clip-in fitting; minimal space required.

The spring loaded pin allows for an easy and quick installation and removal of the door.

Housing: PA, black. Pin: Steel, zinc plated. Spring: Stainless steel.
Door cut-out and frame cut-out differ.
For full datasheet see below.
Please contact us for large quantities.