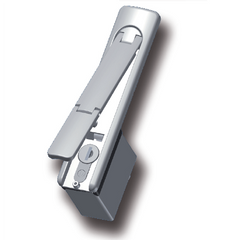 307-9301 Anti-vandal Swinghandle for profile cylinder and flat rods
307-9301 Anti-vandal Swinghandle for profile cylinder and flat rods
Stainless steel, AISI 316L

The elegant, low profile design and the extremely narrow gap between handle and body makes this 

swinghandle resistant to vandalism.

Profile cylinder located within the dish.

A cage protects the locking cylinder from being deliberately pushed or forced through.

The low profile prevents the handle being used as a climbing aid.
Water and dust-tight to IP65 

RH and LH application.
.
For full datasheet see below.
Please contact us for large quantities.
Related Products