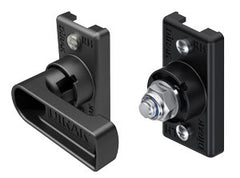 308-9006.00 3-440 Bearing Plate RS base (with adapter)
308-9006.00 3-440 Bearing Plate RS base (with adapter)
Bearing plate with adapter for single or multi-point locking system for standard cams and 3-point cam adapter.
RH/LH application.
Pre-installation onto swinghandle base by clip-on.
Cams will be secured by self-securing nut M8 onto the square.
Materials: Bearing plate and cam: PA, black; Adapter: zinc-die, untreated.
For full datasheet see below.

Please contact us for large quantities.