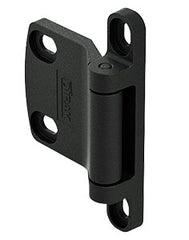 4-351 2D Hinge, adjustable Pr01 180° Short Version
4-351 2D Hinge, adjustable Pr01 180° Short Version
For nested doors.
180° opening angle.
Hinge is visible.
RH and LH versions.
Height and width is adjustable ±2mm (0.079).
Pin in blind hole secured against knock out.
Materials: Frame-part and door-part - Aluminium, black. Bushings - PA, natur. Pin - Steel, zinc plated. Cover - PA, black.
For full datasheet see below.
Please contact us for large quantities.