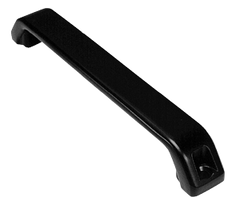 9/00214 Diecast Grab-Rail – 250mm (black)
9/00214 Diecast Grab-Rail – 250mm (black)
Clean, modern lines.
Thin sections and curved shapes.
Ideal for use as an entry-assist on rear and side doors of trucks and vans, for compressor and engine covers, and on containerised gen-sets.
Low profile and wide section for good grip.
No sharp corners or edges.
Fully plant-on, semi-concealed fixing holes.
Black powder-coated.
A=Body length: 255mm. B=Body width: 33mm. C=Body height: 35mm.
D=Hole centres: 238mm. E=Section min (ribbed): 3mm. H=Hole sizes (diameter): 7 mm, c/s 12 mm.