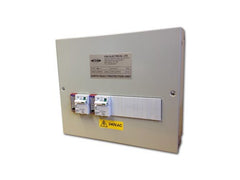 FDB2 Multiway RCBO
Typical lead time 10-14 days.
FDB2 Multiway RCBO
Multi-circuit protection in a single enclosure
Double pole 110/230V
MCB ratings: 10A; 16A; 20A; 25A; 32A
Rated trip current: 20mA, 30mA or 100mA
2-way, 3-way and 4-way option as standard
Modular construction allows multiple enclosures to be arranged horizontally or vertically to suit space available.
Approved Network Rail DC Immune Protection.
For full datasheet please see below.
For large quantities please contact us.